The Perfect Complement for Spa, Beauty, and Fitness!

SlimPod™ incorporates infrared lighting, a proprietary combination of topical radiant heat and steam, LED color technology, and a vibratory bed in an advanced capsule. This powerful combination leaves skin looking soft, supple and radiantly beautiful!


The ultimate multi-sensory experience:
Heat – Vibration Massage – Aroma – Air – Music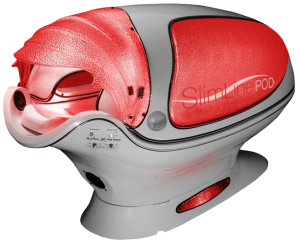 Losing weight has never gotten easier.  Just 9 minutes a day you can change the way you look and feel.  The LED infrared chamber fits comfortably over you as you relax with a nice aroma, soothing music and a vibratory massage.